ONLY COMMENTS HERE. FEEDBACK GOES IN THE SECOND POST. QUESTIONS GO IN THE THIRD POST

It is true that from time to time I crochet things. They are usually very quirky things, either ideas that I come up with or that someone commissions of me. However, lately I've been trying to broaden my horizons, and it helps to be a part of a few Craftster.org swaps. Anyway, here are the things that I have made that I am most proud of. A lot of the characters aren't my own and these are all fan-made products! I'm mostly not interested in recreating any of this stuff because it is very boring to do so, and it will take me triple the amount of time to make it because of this, but if you ask nicely, I have been known to consider.

The Domo scarf was one of the first things I made, along with the kiwi beanie. I really liked it...I ended up making a bunch of them.



This is a Totoro scarf. He was a paying commission and then I made another one later on, but I don't have any pictures of it. It took me months to make the second one.



After being inspired by the almighty
twinkiechan's food scarves, I made a bunch of food stuff myself, starting with the fruit beanies and escalating into the likes of this kiwi scarf, which took forever to make:



If or whenever I have kids, I am going to dress them all up, male and female alike, in strawberry headgear:



Yeah, I know I'm obsessed with Happy Berry...but it's just such a cute symbol! The bookbag is quite huge, like a normal bookbag size, and I just made that on a whim and sold it via a Livejournal Parakiss community. I did the same for the scarf, and it was something that I had in mind for a Craftster swap, but I decided to make her different things instead.



Pokemon :3! The Pikachu beanie was requested and traded for a bunch of Beanie Babies on Laundromatic. The Haunter scarf was one of my first paying commissions ever.:



This was a commission via Laundromatic that I did for trade. He is Yamamaya from Azumanga Daioh and I was given one and two references.: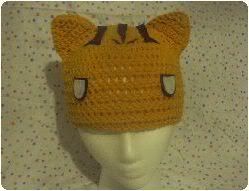 Deery Lou is just so darn cute, I HAD to make scarflets! I've remade these a ton of times, and each time I make one, it takes me longer and longer to make...



And I don't just make anime stuff! Anyone who has an idea for something, I love to hear it. I especially love making clutches, see?:



Let me know what you think!
~ Joa
jojin(at)alltel(dot)net
http://incandescence.shinjuu.net